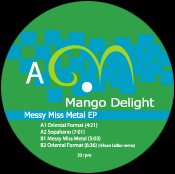 Messy Miss Metal EP
4 tracks, 22:55
| | |
| --- | --- |
| Artist : | Mango Delight |
| Cat.no : | BAH011LP |
| Style : | Electronix |
| Origin : | Denmark |
| Format : | 12" EP |
Give it up! Tobi Twang a.k.a. Mango Delight - the pseudonym used by the Danish multi artist for his electronica music - would never let you in on the details! Likely he doesn't even understand them himself!
Tobi Twang is founding member of Tender Productions, and Tender has been the main outlet of his musical activities, under aliases such as DJ Legba and Mango Delight, and in bands such as Angus&Graves and Twang. Other activities of Tobi include experimental shortfilms, comics, paintings, performance and microchip research (!). His smallest piece of art is the Mango Delight M-logo, etched in the top metal layer of a prototype chip. Size: 6 by 10 hundredth of a millimeter! The 'multi' in multi artist is not obtained by determined effort; rather it is the unavoidable result of a state of mind! The elements of 'multi' seem to thrive on each other, mingling whenever possible, gaining momentum in the process.
Messy Miss Metal is the fifth EP in Tender's Tendertronic 12" EP series. Its experimental grooves and tight production sweep the listener into another world, another planet. This is not from earth! The EP contains three diverse Mango Delight tracks, the first of which also appears in a Håkan Lidbo remix version. This first track Oriental Format is a minimal journey into bass, beats and cut-up vocals - delivered by Super Cozi (Zen Lemonade) - beckoning to the listener in Japanese. Sopahano, an open-headed, tight, mind-bending beat. Title track Messy Miss Metal has you enter the world of cyborgs. This track was originally composed for a performance/concert at an art event in Copenhagen called Half Machine: a baby robot and a cyborg mother meet in harmony, until fatal system breakdown... Mango Delight, the robot repairman, must be summoned from behind his music making machines! The track was made entirely with metal clashing samples, accompanied by 808 and sawtone synth. Following a drum solo by Twang (the band!), Håkan Lidbo's abstract remix version of Oriental Format rounds off the lot. Håkan's remix is a nice rebound on the remix that Mango Delight delivered for Håkan on his Tendertronic EP 'The Worst Case Scenario', a remix which was aired on Mary Ann Hobbs' Radio 1 Breezeblock show.
Track list:
| | |
| --- | --- |
| | Oriental Format (x:xx) |
| | Sopahano (x:xx) |
| | Messy Miss Metal (x:xx) |
| | Oriental Format (Håkan Lidbo remix) (x:xx) |