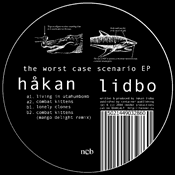 The Worst Case Scenario EP
4 tracks, 18:32
| | |
| --- | --- |
| Artist : | Håkan Lidbo |
| Cat.no : | BAH014LP |
| Style : | Tech-house / abstract |
| Origin : | Sweden |
| Format : | 12" EP |
Why doesn't this EP sound like what I'm used to hearing? That's simply because at Tender we refuse to waste our or your time on releases that sound like 100 other releases of the week! Apart from that, Håkan Lidbo is without a doubt one of the broadest spanning electrosicians of our time, his musical spectrum ranging from abstract soundscapes across minimal click'n'cut tracks to pounding club mixes, all exercised with an equal level of confidence. You never know what to expect! This extremely productive Swede has more than 150 releases on his discography.
In Tendertronic, Håkan Lidbo explores tech-house and also more abstract compositions. The Worst Case Scenario contains two excellent tech-house tracks 'Living in Utahumbomb' which is a personal favorite of his, and 'Combat Kittens' of which is featured a twisted Mango Delight remix. In addition, the EP packs a rather science-fiction-like abstract track 'Lonely Clones', implementing a very original use of cut-up vocals.
Like with all Tender releases, we encourage the musicians to take an active part in the whole release, in particular the artwork. Thus Håkan himself created the label, clearly inspired by the title!
Track list:
| | |
| --- | --- |
| | Living in Utahumbomb (5:00) |
| | Combat Kittens (4:49) |
| | Lonely Clones (5:59) |
| | Combat Kittens (Mango Delight remix) (3:44) |