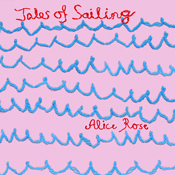 Tales of Sailing
13 tracks, 51:16
| | |
| --- | --- |
| Artist : | Alice Rose |
| Cat.no : | BAH017CD |
| Style : | Vocal electronica |
| Origin : | Denmark / Germany |
| Format : | CD album |
This is a White&Red Recordings / Tender Productions coop release :) Tender will handle digital distribution and physical distribution and promotion in UK.
Featuring 13 tracks by the Danish musician, songwriter and performer, Alice Rose, Tales of Sailing is an eclectic mix of the electronic and acoustic, modern music with a taste of the past. Starting with the simple vocals-and-accordion sea shanty, 'A Tale of Sailing', to the dancy, 'Rare Bird' and 'Trash', the electronica of Absent Lover' and 'Dark Cloud', and the tweaked drum-n-bass of German pop song 'Schön Wäre es'-the unifying force in all of these is the achingly beautiful voice of Ms. Rose. She collaborated and co-produced with major electronic musicians Gabriel Ananda (Traum, Trapeze) and Frank Martiniq (Boxer), as well as Numinos (Warner chappel) and Electro Atomu (Pink Soc).
Alice Rose's music is mesmerizing, and she is also an excellent songwriter, with intriguing lyrics and vocal melodies. Originally from Copenhagen, Denmark, she has spent the past 7 years traveling the world, living in Berlin, Prague and Cologne, Germany, where she is currently rocking the scene. Look for this fantastic, young Scandinavian woman wherever she may be performing. She has the potential to become a bright, shining star.
Track list:
| | |
| --- | --- |
| | A Tale of Sailing |
| | Scön Ware Es |
| | Dark Cloud |
| | Serenade to the Moon |
| | Rare Bird |
| | Trash |
| | Absent Lover |
| | Perfect Day to Escape |
| | Happiness |
| | Demons |
| | Hot Day |
| | Wonderful Beautiful |
| | Inhaling Starlight |