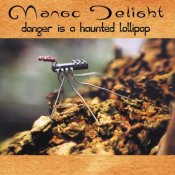 Danger is a Haunted Lollipop
14 / 15 tracks, 54:30 / 59:47
| | |
| --- | --- |
| Artist : | Mango Delight |
| Cat.no : | BAH002CD / BAH002LP |
| Style : | Minimalistic Electronix |
| Origin : | Denmark |
| Format : | CD album / double 12" vinyl |

Mango Delight - Tight fitting, mind bogging, minimalistic electronica.
In 1999 Tender Productions released the debut album of Danish techno musician Mango Delight. The album, Danger is a Haunted Lollipop (14 tracks, 54:39) is a collection of minimalistic electronica tracks, recorded partly in Copenhagen, partly in Tokyo (where Mango Delight spend time gathering inspiration), wholly inspired by the modern East Asian culture.
Danger is a Haunted Lollipop is electronic music that you can really listen to. It isn't bashing dance core, sweet pop or floating ambient, but rather light but expressive electronix, which carry hours of delightful amusement for the observant listener. Each track on the album tells in its own right a story, opens up a world of its own.
The album is available on CD and double 12" vinyl, the vinyl version packing an extra bit of audiocratic goodies, in the form of a 3-piece soundscape carrying the listener from the distant jungle, on to the back of the pachinko monster, into the age of science fiction...
Track list:
| | |
| --- | --- |
| | Hybrid |
| | Plastic Arab |
| | Shipload of Love |
| | Song8 |
| | Agentro |
| | Orange |
| | Hvor er det Nemt |
| | Reset your Mind |
| | Ragaku |
| | Sunporch |
| | le Monde Naturel |
| | Sneaky Klok |
| | Three Amigos |
| | Jetrtyd |
| | Jungle Life + Walking Pachinko (vinyl only) |