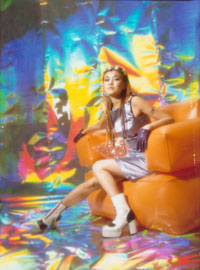 Click here for high res version
SUPER COZI (JPN)
Track: Cookie (3:52)

Japanese ninja kitten, started her musical journey in Tokyo in the mid-80s as a vocalist and guitarist in a punk band. They released a couple of albums in Japan. In the beginning of the 90s she started using her computer to make "rolli chop noiz", and also started DJing. Her musical style is a uniquely full chaotic fusion of techno, trance, break-beat, lounge, jazz, drum'n'bass and a spoonful of humor!

Super Cozi has been living in England since her electronic debut in 2000 (the album Super Cozy which she released on Tender under the name Cozi), touring with live and DJ set, mostly in Denmark, Finland, Australia and England. Her main focus at present lies in the duo Zen Lemonade (herself + Gus Till), which is a more trance-like collaboration. Since their first release in 2002 (the album Lemon Soul out on Dragon Fly) they have toured with a mix of live and DJ (freestyle break-beat / trance) in England, Germany, Denmark, finland, Greece, Mexico, Japan, Thailand, Indonesia, Australia, USA, etc. serving warm beatnik miso soup in Cozi's personal kitsch-fashion. Since the summer 2002 she set up her base in Bali, producing new sweet madness with tropical flavor.

Cookie, which is made especially for this compilation, is previously unreleased. The dragging break-beat and dreamy surface is both muddy and crisp at the same time! Is that true electronica or what?!

Discography:
   2000 Cozi 'Super Cozy', album, Tender (DK)
   2001 Super Cozi 'Live in Germany', DJ mix CD, Flying Rhino (UK)
   2002 Zen Lemonade 'Lemon Soul', album, Dragon Fly (UK)
   + various compilations